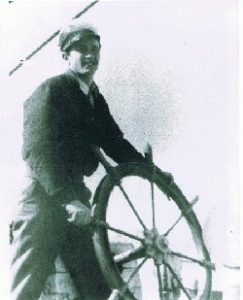 Captain "Guy" Earle,  NORTH AMERICA'S YOUNGEST NORTH ATLANIC'S MASTER MARINER. Guy received his captains ticket as North Atlantics youngest sea captain at the age of 16,  then at the age of 18 falsifing his birth certificate by 3 years getting his Master Mariners License  at the age of 18  now able to sail any seas anywhere in the world. Its even "possible" that Guy Earle may even be the worlds youngest Master Mariner.
Guy Never lost a man at Sea and a Record Holding Trip with the Masted Betoine- 21 days to the West Indies and back from Newfoundland in the 30s.
2021 book written by Dr Philip Earle, son of Guy Earle. For a copy email: [email protected]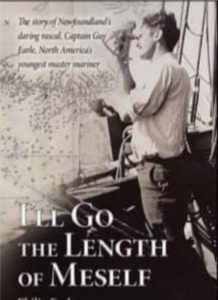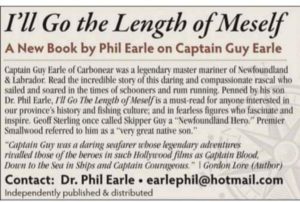 Captain Guy Earle was a Veteran Fishing Captain of the SS Kyle of Carbonear Newfoundland and was manned by 100  men at times.  At the age of 8 years old he began accompanying his Father Arthur Earle on his Voyages North to Labrador. Starting as a cabin boy and learned his labor's well and sank his energies into the Labor's of life at sea, eventually becoming one of the great skippers of his time, rightfully taking his place among the great seamen, Captain James Pike, Captain Cyril Taylor and Captain Ned Rorke of Carbonear – all of whom gave the town a reputation as maker of great seamen. 8 years after his first voyages with his Father Guy surviving a rare disease Scarlet Fever and beating the odds he became skipper of his Fathers Schooner trading back and forth to Labrador. Captain Guy  a Master mariner at the age of 18 commanded his first 3-masted stern schooner Betoine in 1938, this was his first Atlantic voyage with a load of salt fish for Portugal. Obtaining  his Captains ticket at the Age of 16 with everyone believing he was 18, becoming the youngest known  North Atlantics Sea Captain ever to date and for many more years  Guy continued a coastal service around  Newfoundland, with occasional trips to the Hudson Bay, the mainland of Canada and Labrador, during the winters extending his trade overseas to Spain, Portugal and the Caribbean.  In all 34 years as a Captain, Guys has never once lost a single life at sea.  In 1936 at the age of 19 he had to deliver a schooner full of Salt Cod to the west Indies and in trade bring back Molasses in record time of, 21 Days. Captain Guy Earle and his Father Captain Arthur Earle formed the first fully integrated fish business in Newfoundland, Earle  Freighting Services of Carbonear,  which dealt in salt as well as fresh fish and seals. Earle Freighting Services employed 2,500 fisherman and 190 Permanent employees at Carbonear. It is likely that there has never been another fish merchant company in the history of Nfld which had 25% of the total yearly salt fish export from the province. In the 1960's the Earle freighting Service had a quarter of the yearly export of salt fish.   In today's (2021)  foreign market, Brazil, Spain, etc,   salt cod, is $50.00 a lb on the store shields. That would be about 400-450 million cdn dollars in todays money for the local company!!.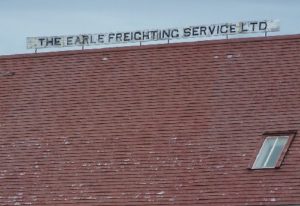 Captain Guy  was a man of courage, but courage is not something one sums up in a single act. Guy was the exemplification of this virtue in all his endeavors and many occasions received widespread acclaim for his feats. Carbonear will never forget the spring of 1965 seeing Captain Earle bring the Kyle – Limping, listing and laden with seals, into his home town. We watched and waited, knowing the near disaster on the Ice fields was only averted by his persistence in effecting such repairs as could be done to continue the voyage. Men of lesser courage and ability might in such a situation have abandoned the ship.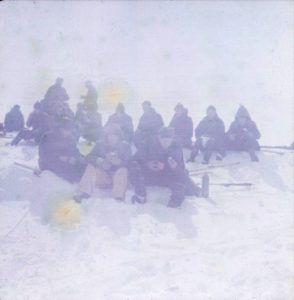 When pressure of business forced him ashore, he still kept a yacht, aboard  which he spent his leisure hours. Business was not his only occupation, his trade was with people and his warmth spread as widely as the countless business negotiations he engaged upon. These negotiations, although not always crystal clear to Guy, were relentlessly pursued until he was satisfied the purpose had been achieved. The devotions he put into his work and his sense of frank purpose, helped him expand his Business from a single small structure to a building complex housing a fresh frozen food industry and the largest Cod fishing industry in Eastern Canada.
The First Newfoundland sealing ship to return from the front this 1965 spring  turned up with almost $100,000 damage after a tough year. However it was a paying voyage" with some 12,000 seals taken and men brought home a burning desire to keep dwindling seal fishery kindled dangerous odds. The Kyle steamed in to Carbonear under command of Captain Guy Earle. The former CNR coastal coal burner was manned by 100 men who made it safely to and from the ice fields. Immediately, Flippers went on sale in the Conception Bay Community. Creating a Telegram reporter-photographer team, Captain Earle invited them to his cabin where he unfolded the ship's Log (Photo shown below) and revealing story of the 1965 seal fishery. It was a tough one he declared going through the pages of his book. "Any trouble" he was asked.? Yes he said, it was a real tough spring. Then he told of how he almost lost his ship March 27th.
It was 12:10 am, and the Kyle was in the strait of Belle Island not far from Belle Island itself and trying desperately to combat severe snow storm conditions and eventually reach a major patch of seals in the vicinity of South Wolf Island, Labrador. The Kyle drifted fast in heavy ice until the 50 year old vessel came to rest against towering iceberg about 150 high. The 47 year old captain said you could hardly see the top of the snow drifts. He thought winds at the time to be gale force at 85 miles per hour. He said he feared the giant iceberg would  turn over and crush the 220 ft ship The 75 sealers were also fear full of their pre-cautious position and abandoned ship. The Ice Breaker D'Iberville was about 6 miles away from the Kyle and was alerted the situation. However, things took a lucky turn for the better and the men were only on the ice for 25 minutes. Captain Earle said 25 crew members did not leave the ship. Fortunately the Kyle shifted position in the vicious wind but not without being nudged by the mountain of ice which was ground in about 35 fathoms of water. Captain Earle said the deck was filled with Heavy Ice. Outside the boat was bulged in from mid ship to its bow on one side. Captain Earle pointed out the damage on the ship showed where wooden and rubber plugs were used by the men to make temporary repairs.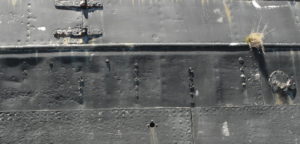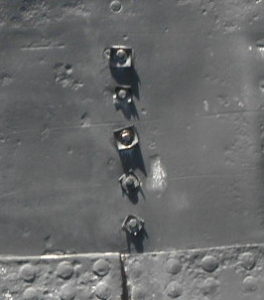 Captain said its a good thing the damage was done above the water line. He recalled that in one area of the ship you could see broad day light looking a the damage done from the inside.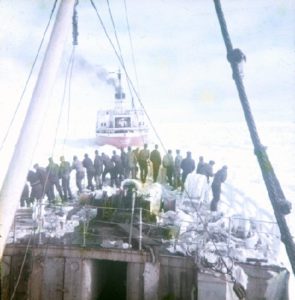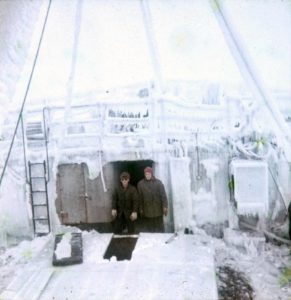 Asked for an estimate Guy replied I would say almost $100,000.00. As soon as the Kyle moved from its pre-cautious position, the sealers returned on board to start making repairs. Captain Earle who just completed his 4th year at the Newfoundland seal fishery describe the voyage from the log this way. Weather was stormy and bad all around, sort of rare ice conditions, Ice was nipped on the Labrador coast,  tight on shore. There wasn't much ice but we couldn't get through it to the seals. Captain Earle left St. John's on March 9th. Navigating around the ice he made it as far as Round Hills March 12th. There were 8 Norwegian sealers spotted in the vicinity of the Round hills. Off cape Bluff on March 19th 15000 seals were harvested by all Canadian boats, the Kyle took 3000. Once the patch was exhausted efforts were made in vain against storms and heavy packed ice set in as the vessel attempted to reach further north and to herd located seals between North Wolf and South Wolf Islands. Despite drifting and serous accident which took 2 days to repair, The Kyle fought the element from March 19th to April 7th when seals were stuck again. It was a monotonous interval as indicated by the log. Turning page after page Captain Earle read nothing but snow storms and heavy ice.
On March 4th sealers walked 4 miles between South Wolf and North Wolf Islands. On March 5th they were over board in poor weather again. Doing quite a good job but no seals, Captain Earle said the moral of his men were down. How ever a break in the sealers came on April 7th although it was a little bit late in the season. At  Last the had reached a major herd of an estimate of 70,000 seals but young ones were leaving the ice and taking to water. This scattered the patch and made it more difficult for the kill. Nevertheless the Kyle harvested 9,000 seals sharing the patch with other Canadian sealers. Captain Earle reported about 20 Norwegian on the Front this spring and suggested were they didn't do to good.  Captain Earle felt his operations were hampered in some respect by the new sealing regulations a federal fisheries officer on board to see the law was being enforced. Stopped the Kyle's kill until the boat had taken more of the pelts on board. Captain Earle noted the officer "of course" was just doing his duty. However short of his panning regulations he thought he would have taken many more seals. Another regulations he was not in favor of  was one preventing old seals from being hunted in a breeding patch. Because of this the Kyle on has 200 old seals on board. He said old skins are valuable in the making of boots and similar manufactured products Captain Earle attacked regulations not permitting the use of helicopters on seals. He argued that helicopters are essential to have on board in case of rescue work.
"In the English and American way od seamen on ships ..the usual order was to be second , or first mate on an ocean-going ship
for years before you could write for your Master mariner's certificate.  5 years was and is required as first mate before you try for Master Mariners.  You had to have the sea time before you write the test.
That would mean 100 years ago someone would have to be first mate from the age of 16 to 21 then can write for Master Mariners  test..  I cant imagine any of the
old sea captions who went before the mast having a 16-year-old as his first mate.
Thats why guy may well have been the youngest on the planet in his day"
Our Greatest navigator