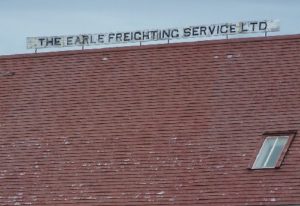 Carbonear was the main office etc. for The Earle Freighting Service Ltd. and its linked companies Earle Brothers Fisheries Limited , Earle Protein Ltd. and Kyle Shipping Ltd. . Vessel skippers plying the home trade with general cargo would rather be tied on for Saturday at Battle Harbour if they had their choice . More on the go ! Battle Harbour pictures taken this past season . Here for all to see The Earle Freighting Service Ltd. nameplate is displayed above the salmon store . To my limited knowledge of  all the varied operations once running that only here on this small island they still remain . The place sits at the mouth of the bay , dead solid on some of the best fishing grounds for salmon , cod , herring and mackerel . Straight inline for migratory birds such as Black Ducks ,Geese and Turs . Path to the thousands of seals moving north or south in the Fall and Spring .
One could row or sail to seine or hook their catch of cod ! It has survived a number of owners , failures and a fire ! Although part and parcel of travel and communication in Labrador for years prior it was in the Earle time that it flourished . It was very much a part of the Earle family conversations across the dinner table in Carbonear .  Earle is Battle Harbour . Battle Hr. is Earle would be my thoughts. Thanks to the restoration under the Battle Hr. Trust along with my Father , Bert Hardy's , careful management over the decades it has survived near intact . I still see the people on visits yet understand they are not there . The salt store , flour store , pork store , salmon store , shop , Herring store , cook house, " Big House " and so on.
Battle Hr. remains !!!!
regards ,
Keith Hardy